Yamaha Motor Philippines – make a different again with their theme "Welcome to the World of MX" advertise and show in the ASAP Rocks last August 21, 2011 - Sunday.

Yamaha Motor Philippines advertise the coming of Yamaha Mio 125cc, the first Liquid-cooled scooter engine in the Philippines ever produce by Yamaha! This

new Yamaha Mio MX 125cc

was design to fit the new generation of scooters with

stylish looks, sporty looks, and hip looks

. The new Yamaha Mio MX 125cc has three (3) different colors white, green and black to be produce exclusively here in the Philippines.
Image via Wikipedia
Yamaha Motor Philippines officially launched the Yamaha Mio MX 125cc or Mio-5 here in the Philippines last August 20, 2011 in BGC 9th Ave., Bonifacio Global City, Taguig City, Manila. Even though Yamaha Motor Philippines did not yet announce or update their website (
http://www.yamaha-motor.com.ph
)
for technical specifications of Yamaha Mio 125cc MX but they are said that it will be the same with Thailand specs as shown below:
New 2011 Yamaha Mio MX 125cc Technical Specifications:
LXWXH: 685 x 1,850 x 1,060 mm (

before was 1,820mm x 675mm x 1,050mm

)
Height: 750 mm (

before was 745mm

)
Minimum ground clearance: 125 mm (

same as before

)
Total weight: 104kg (

before was 95kg

)
Front brake: Single disk (

same as before

)
Rear brake: Drum (

same as before

)
Engine Type: Liquid cooled 4-stroke SOHC 2 valves (

before was: Forced air cooled 4-stroke, SOHC Cylinder

)
Displacement:

124.9cc

(

before was: 113cc

)
Bore and Stroke: Long cylinder hoist x 52.4 x 57.9 mm (

before was: 50X57.9mm

)
Lubrication System: Wet lubrication system (

same as before

)
Carburetor: MIKUNI BS26 x 1 (

before was: NCV24 single

)
Ignition type: DC ignition system - CD-I. (Digital) (

same as before

)
Yamah Mio 125cc MX side radiator
Starting System Type: Electric starter and kick starter (

same as before

)
Fuel: Octane gasoline (91 octane & up)
Fuel Tank capacity: 4.2 liters (

before was 3.7 liters

)
Engine Oil capacity: 0.8 liters (

before was 0.9 liters

)
Transmission type: V-belt automatic (

same as before

)
Gear ratios: 2.540 to 0.838: 1 (

before was: 2.399 – 0.829:1

)
Primary/Secondary reduction ratio: 2.625 / 3.750 (

before was: 3.133/3.231

)
Suspension type (front/rear): Telescopic fork / Unit swing (

same as before

)
Front tire: 70/90-14MC 34P.
Rear tire: 90/80-14MC 49P.
Headlight 12 volt 25 watt / 25 watts x 2 (before was 12V, 32/32W, x 1)
I Like This!! and I hope you like this too... :)
I am not hoping because I will expect that next month or sooner it will be officially launch also here in Cebu. Please take note the unit for Cebu will arrive probably next month or sooner. Watch out this new Yamaha Mio 125cc or commonly called in Manila as Mio 5 !!!!
Below was the image of modified Yamaha Mio MX 125cc shared by vale_46 @ http://motorcyclephilippines.com/forums/showthread.php?t=212529 (known as mcp) picture was taken in Bangkok International Motorshow.. I really like the green Mio MX on the picture. :)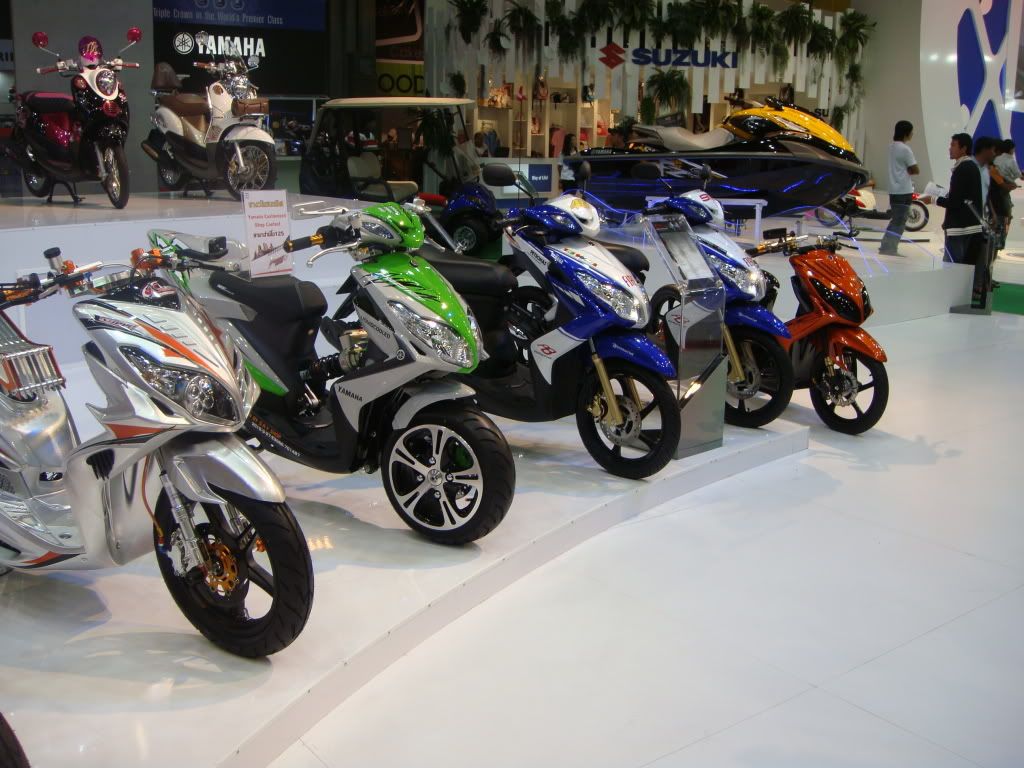 Image via motorcyclephilippines.com by vale_46 taken from Bangkok International Motorshow catalog
Modified Yamaha Mio taken at Yamaha Fiesta 2012 in Aurora Plaza, Laoag
Yamaha Mio MX 125 cash and installment basis here in Cebu:
Cash: 77500 pesos
Installment basis:
please refer with picture attached below;
Mio MX 125 cash and installment plan summary
Official MIO 125 MX General Info and Specs Philippines
Cylinder arrangement : Forward inclined single cylinder
Starting sys. type : Electric starter and kickstarter
Color Variation : Black/red/gold
Engine type : Liquid-cooled 4-stroke, SOHC 2-valve
Displacement Volume : 124.9 cc
Max. Power : 7.8 KW (10.6 PS) / 8000 rev/min
Transmission : V-belt automatic
Frame Type : Steel tube underbone
Fuel Tank Capacity : 4.1 Liter
Engine Oild Capacity : 0.9 Liter
Brake type : Single disc brake/Leading trailing (drum brake)
Price List:
Cash : 77,500 pesos
D/P : 4,000 pesos
3 mos : 25,734 pesos
6 mos : 14,308 pesos
12 mos: 7,924 pesos
18 mos: 5,796 pesos
24 mos: 4,733 pesos
30 mos: 4,094 pesos
36 mos: 3,669 pesos
Significant design improvement:
1. Power + Speed = improve to 125cc engine with 7.6KW @ 8000 rev/min
2. Carburator = improve to 26mm from 24mm
3. Cooling System: improve to Liquid-cooled from forced air-cooled
4. Rear Wheel support: improve to supported both ends from cantilever supported (like sporty & smiley models)
5. Meter Panel: improve to LED lights and new technology same with Yamaha Sniper MX
6. Body Desigh: improve with more robust looks
7. Top Speed:

(tbd)
Gallery:
Yamaha MIO 125 MX color white and black
Yamaha Mio 125 MX color white and black
Mio 5 color white and black
Mio 125 MX Liquid-cooled engine
Mio 125 MX color green
Mio 125 MX improve facade looks